Specialty Door Locks
We carry a wide variety of locks for almost any application from high security door locks and pad locks to more specialized products like Shabbat, Mortise, & Biometric locks. We are also certified for X-10 lock service.
Mul-T-Lock (High Security)

Mul-T-Lock provides a wide range of high security locks and access control devices for both residential and commercial buildings. Mul-T-Lock is owned by ASSA ABLOY Group, a world leader in developing high security locking products.
Mul-T-Lock uses patented technologies to provide a more secure lock and key solution to prevent lock picking and brute force entry. Whether at your home or office these locks offer a much stronger level of security than your traditional grade 2 locks.
Advanced Security Safe and Lock is an authorized dealer for Mul-T-Lock and stock a variety of products in our full service stores. We can provide a complete Mul-T-Lock brand product or can also retrofit Mul-T-Lock cylinder in compatible residential grade or higher hardware to save you some money.
Cipher Lock (Shabbat Lock)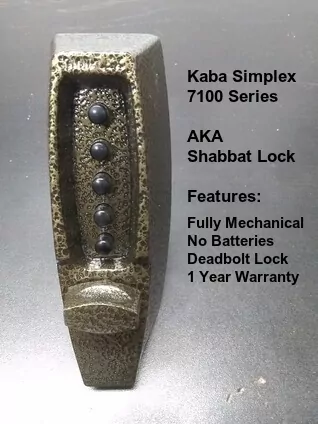 Shabbat lock also referred to as Shabbos lock is a fully mechanical push button lock requiring no batteries to operate it. This makes it an ideal lock for use on sabbath for people who observe it. This is a deadbolt style lock, meaning that it has to be manually re-locked each time.
Shabbat lock is easily reversible so it can be used for either left or right hand opening doors. It operates on a single user programmable code which can be easily changed without removing the lock from the door itself. Shabbat lock is also weather resistant making it versatile to use either on interior or exterior doors.
Advanced Security Safe and Lock carries these Kaba Simplex locks in stock for sale at both of our full service locations in Baltimore city and county. You can also choose to have one of our locksmith techs install the lock and program it for you as it does require drilling if the existing lock is a traditional deadbolt.
In addition to providing sale and installation of Shabbat lock we also provide lock-out service for these locks as well. We typically carry a range of colors and finishes to choose from including Gold Vein, Silver Vein, Chiarra Brass, Satin, Chrome, Black, White, and Antique Brass. If you require a special color or finish that we do not carry in stock we can order it and have it for you within 2-3 business days.
Mortise Lock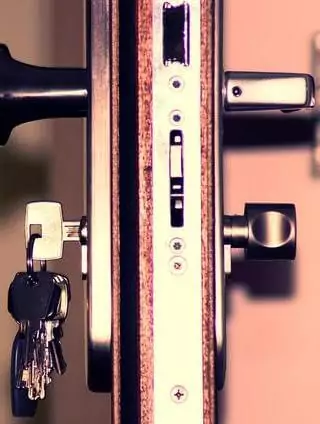 Mortise lock has been in use since the 18th century, making it one of the oldest designs still in use today. They can be usually found on older homes in Baltimore and many other older cities in Maryland. What makes these locks different from regular twist knobs that we are used to is that they require a pocket to be cut in the door.
A newer door with lock cut-outs for normal twist knob will require modifications to properly fit a mortise lock. That is the reason why most people will contact a professional locksmith to have this done properly. However, a person with a decent knowledge of woodworking will be able to undertake this task him or herself.
Mortise locks can vary in design and functionality, from simple non-locking sprung latch to a combination of deadbolt and a latch. Recently mortise locks have become more popular for businesses across Maryland and DC because of newer higher security designs. Advanced Security Safe and Lock carries a variety of Mortise locks for various residential and commercial applications.
We provide comprehensive services for all varieties of mortise lock including installation, removal, repair, re-keying, and lock-out service. Our locksmiths are very familiar with the inner workings and installation process of mortise locks as we encounter quite a few around Maryland and DC. If you have a problem with your mortise lock not functioning properly, give us a call and one of highly trained professionals can be dispatched to your location anywhere in central Maryland or DC within minutes.
Smart Locks
Smart locks provide a keyless entry method usually with a backup key in case of a network outage or lost phone. Smart locks can come in a variety of shapes and forms and have various methods for entry including Bluetooth, Wi-Fi, numeric keypad, fingerprint, & RFID just to name a few.
Smart locks provide an extra layer of convenience for home and business owners by allowing scheduled entry of approved persons. Various methods are used by different types of smart locks to achieve this, some may provide a one time access key via Bluetooth while others may use a one time access code.
A few smart locks even incorporate a camera to record activity at your door so you know who is there even when you are not. Overall a good smart lock is just as secure as a normal key lock as long as safety protocols are followed. By keeping your app and phone up to date and using a secure password you can enjoy both the convenience and safety of a smart lock.
Our technicians are well versed in installation and troubleshooting of smart locks. We offer our smart lock services throughout Baltimore, Central Maryland, and Washington DC. Give us a call today to get a free estimate or to schedule an install.
Biometric Locks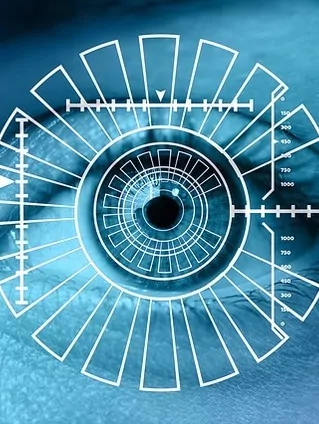 Biometric locks are usually used in a building requiring higher security and can be found inside government and government contractor buildings. However with the advent of low cost high tech electronics it is not unusual to see these biometric locks on some residences. Overall biometric locks provide a more secure option for access control needs of high security environment.
Biometric locks come in a variety of designs and different scanning options based on the level of security required and can be combined with a keyed lock for extra security. You can pick between retina scanning, finger printing, facial recognition, or hand scanning options based on your preference and security needs. The design of lock varies based on the scanning option chosen but still a variety of design choices are offered within that scan category.
Advanced Security Safe and Lock offers complete service, installation, and reprogramming of biometric locks and access control systems. Our specialist can program in new users or remove old users as well as expertly repair any electronic or mechanical issues with your biometric locking device. Give us a call today to have one of our expert biometric techs help with your lock or to have a consultation to see what will work best in your specific situation.