Advantages of a metal door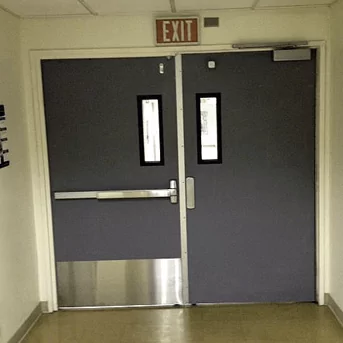 A commercial metal door (commonly of the flush type), is one fabricated of sheet steel and reinforced with metal channels; has a hollow core, sometimes filled with a light filler material.
These types of doors are commonly used as a passive means of protecting people and property from fires in commercial facilities such as schools, industrial plants, hospitals, government facilities and office buildings to name a few.
Advanced Security Safe and Lock provides comprehensive commercial metal door services including but limited to repair, replacement, adjustments, and maintenance. Whether your metal door needs repair itself or it's the hardware that's giving you problems we can fix whatever is keeping it from functioning properly. Give us a call now for a free on-site estimate.
Using a hollow metal door has many advantages such as:
Fire retardant
Weather resistant
Durable / great for long term use
Environmentally friendly
Designed to fit nearly every application
Rugged
Less transport cost compared to Wooden doors
Termite/Insect resistant
Low maintenance/repair cost
Fire Rated Doors
Fire Rated Doors are a type of hollow metal door which prevents the spread of fire, smoke, toxic fumes and gases. These doors are a part of an assembly which includes the wall, door and frame specifically manufactured for this purpose. Being Fire Rated typically means the duration for which the door can withstand a standard fire resistance test. We've provided a list of UL codes and associated standards:
Other requirements
Uses rated fire door hardware
Steel hinges (to ensure the door will not come loose from the frame and fall out of the opening)
Must be self-closing and self-latching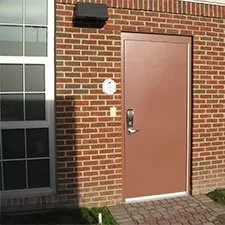 NFPA 80 provides specific guidance on what can and cannot be done to a rated door. When adding a new door or repairing your existing door we ensure that all new components have a label matching the rating of the existing door and frame. We also can provide pre and post repairs to insure that your facility passes its yearly fire inspection.
| UL Code | Rating (Resistance Time) | Maximum Glass Area | Use |
| --- | --- | --- | --- |
| A* | 180 min | 100 square inches per leaf Firelite glass only / No dimension to exceed 33" | openings in walls separating buildings that are joined together |
| B* | 90 min | 100 square inches per leaf | stairwell doors but are sometimes used at all the rated walls in a building |
| C* | 45 min | 1296 square inches per light. No dimension to exceed 54". | openings from a corridor into another room in the same building |
| D | 90 min | Must check local jurisdiction for standards | exterior doors that are subject to fire hazards from the outside of the door |
| E | 45 min | 1296 square inches per light. No dimension to exceed 54". | exterior doors that are subject to fire hazards from the outside of the door |
| | 20 min | 1296 square inches per light. No dimension to exceed 54". | |
| S | SMOKE | | |
*most commonly used