Home Lockout Service Baltimore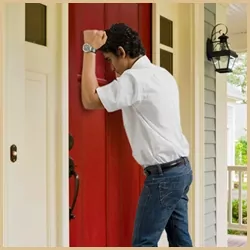 Did you get locked out of your Baltimore home? It happens to all of us at one time or another, you get distracted for just one second as you are walking out the door and lock the keys inside. Usually it doesn't take very long before you realize that you are now locked out of your home and have no other way in.
We Get To You Fast
There is no need to panic because one of our expert locksmiths can be at your doorstep within minutes of being dispatched. Our mobile locksmiths are strategically dispersed throughout Baltimore Maryland metro areas to get to you as quickly as possible. With 3 physical locations in Baltimore City and County we can still get to you faster even if no mobile locksmith units are near you.
Lockout Without Destruction
Our locksmith technicians are well versed in home lockout services as we provide these services on a daily basis many times a day throughout Baltimore & central Maryland. Our locksmith will not pull out a drill as soon as he arrives as they are masters at picking locks without destroying them. We will exhaust all other options before resorting to drilling a lock to open it, meaning we will try our hardest to keep your cost to the minimum.
Automotive Lockout Baltimore MD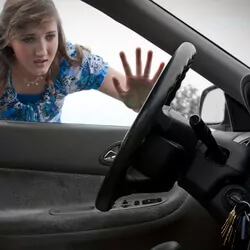 Nothing can be more frustrating than when you lock your keys inside your car and have no access to the spare set of car keys. You could have just got home or to your work in Baltimore and in a hurry forget to make sure you take the keys out of the ignition. It can happen to the best of us so don't be upset with yourself.
Fast Arrival Times
There is a good chance that one our mobile locksmith vans are just around the corner from you, as we have several mobile units throughout Baltimore and central Maryland. Our locksmith usually arrives within 30 minutes to any location within our service area in Baltimore Metro. If there is a delay from an unexpected complication, such as traffic or weather conditions, our tech will stay in touch with you to keep you updated on estimated arrival time.
Fair Upfront Pricing
When you give us a call for your car lock-out, we provide you with a price quote that will never go up without further unforeseen complications. Typically that never happens because our dispatch and our locksmith will ask you questions to ensure they are quoting the price based on your specific situation. Even if there was some miscommunication our locksmith will inform you of any additional charges and get approval prior to starting work. So don't stand there trying to get in with a clothes hanger and damage your paint, give us a call and we will provide you with an accurate price quote for professional unlocking of your car.
Commercial Lockout Service Baltimore MD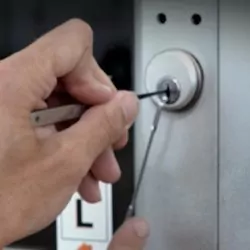 If you own a business it is imperative that you open shop at the scheduled times posted or you could risk losing money. Therefore, if you are locked out of your Baltimore business you need to have it open as soon as possible. When you can't wait around for some no-name locksmith to show up hours later, you need to call Advanced Security Safe and Lock.
There When You Need Us
With our huge team of locksmiths spread throughout Baltimore Metro, we can get to you within minutes anywhere in central Maryland. Our locksmith tech will show up with all necessary tools and equipment to quickly get you back inside your business or office. Our locksmiths are fully trained in opening high security locks that are usually found on business doors such as Mul-T-Lock and Medeco.
Affordable & Professional
Our company has been providing services in Baltimore-Washington metro area for well over a decade with many repeat commercial clients. The reason behind our success is very simple, give fair pricing and provide superior workmanship. Our goal is not just to get the job today and help you with your lockout but also to ensure you return back to us for any other services we offer. The price we quote on the phone is the price you will pay once the job is done, it's that simple.