Storefront Door Installation, and Replacement
Whether you like it or not, your commercial storefront door makes a statement to the world. Whether the statement is good or not is dependent on the type of door you have.
Is your door going to boldly challenge potential intruders to spend hours trying to break in? or will it tell your neighborhood that you've made it to the top? or will you let intruders know that they can get in with minimal effort?
And since it's up to you, why not let our professionals help you out?
Storefront doors come in various materials and styles, depending on the location of your business in Maryland or Washington D.C. a few changes can make a huge difference in your store's safety or appearance.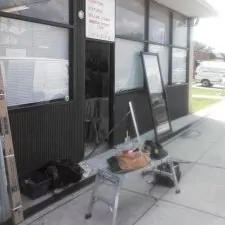 We'll help you select the perfect door that is low maintenance, energy efficient and secure while also being attractive. Let's face it, it is important for your storefront door to be inviting but at the same time you need to make sure it is also as secure as possible.
Your front door to your building connects your business to the outside world and it's the first thing any customer sees. And we all know how important it is make a good first impression on our potential customers.
An overly aggressive storefront door design can discourage not only the bad actors but also potential clients, that is why it is important to have the right balance.
Call us today to get started on your entry door
Wooden entry doors provide a perfect balance of beauty and security for certain storefronts like restaurants and bars. They add natural warmth and beauty, enhancing the look and feel of your store.
Exterior Door Types We Offer: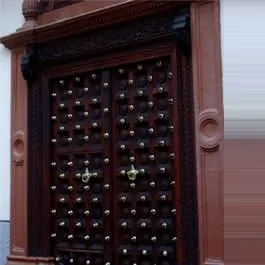 Storefront Doors
Wood Doors
Automatic/Revolving Doors
Rollup Doors
Glass Aluminum Doors
Patio Doors
Maryland & DC's Best Commercial Door Installers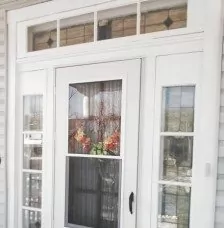 Our technicians are highly skilled in installation of commercial doors including storefront doors. If needed they can help you decide what type of entry door will work best for your particular situation.
Not all storefronts need a glass aluminum door unless it's important to have high visibility into your store from outside. No matter what type of entry door you decide to go with, our professional door installers will have it looking like it belongs.
If you are in the market for a new storefront or entry door in Maryland or Washington D.C. give us a call and we will come out to do an onsite evaluation and estimate.
There is a reason why so many people in Maryland and DC recommend Advanced Security Safe and Lock for commercial entry doors.