Car alarms aren't just a perk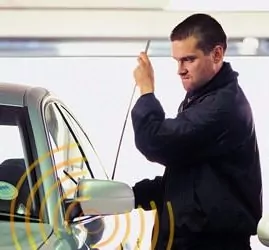 Did you know that car theft and break-ins are at an all time high? Having a car alarm installed isn't just a perk; it's a necessity. You don't want your new laptop or ipad stolen and for sure you don't want your car stolen, you need to make sure that you keep unwanted intruders away from your investment. This is where we come in.
A car alarm is an electronic device installed in a vehicle for discouraging vehicle break-ins or theft. They work by emitting high-volume sound when the conditions necessary for triggering are met, as well as by flashing some of the vehicle's lights.
As auto locksmiths We'll work with you to get the best system for your price range.
Car Alarm Remote Replacement
It happens to everyone, it doesn't matter if it's in your other pants pocket or somewhere at the bottom of your work locker. It's never good when you lose your car alarm remote. When that happens, just give us a call and we'll do our best to be there as soon as possible.
We have a full selection of Car Alarm Systems to meet your security needs.
Car Alarm Security features
Impact Siren – This senses break-in attempts and responds by sounds the siren and flashing the lights.
Starter disable – Prevent the starter motor from cranking and starting the engine when the key is turned to the start position.
Tilt Sensor – Protect your wheels and tires, this system will sound the alarm when it senses any foul play, like it being jacked up.
Proximity sensor – An added security to the standard car alarm, both inside and out. It can tell if someone is reaching in through a window trying to unlock the lock.
Vehicle tracking – Track your vehicle in real time, if your car was stolen, you can find where it is and who stole it.
Car Alarms we install
Keyless entry
Automatic Lock
Door Sensor
Shock Sensors
Vehicle Tracking System
Window Alarms
Motion Sensors