X-10 Lock by Kaba Mas
The kaba X-10 Lock is the trusted choice for securing the US Government's strict requirements of Federal Specification FF-L-2740 – the highest security standard for electro-mechanical locks. The X-10 is the GSA approved lock for FF-L-2740, latest revision B, Style 1 applications. The X-10 approved by the GSA for use on approved Class 5 and Class 6 filing cabinets and Class 5 Security vault doors.
Application of X-10 Locks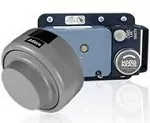 The x10 door lock was designed and developed as a direct result of the latest revision to federal specification FF-L-2740, now Revision B. This revision calls for two distinctly different lock styles. The X-10 is the only self-contained lock. The X-10 is the lock awarded the distinction of being approved for Style 1 Applications.
User-Friendly Lock Design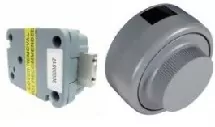 The X-10 was designed with similar features and functions of it's predecessor, the X-09. This minimizes the need for user training. It maintains the already familiar product operating features, and uses the same "Green" self-powered technology – simply rotate the dial to power-up the lock.
CDX-10 Lock Installation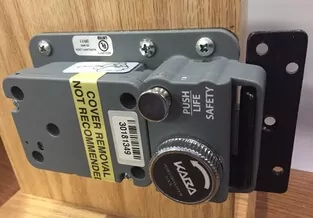 The CDX-10 lock is an X-10 lock mounted on a standard or drill resistant deadbolt base plate. It is designed for use on standard egress doors that usually have no regular occupancy, like telecommunications closet.
Kaba Mas Limited Use Clause for X-10 Series: Section 1.1.1 Limited Use.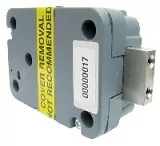 Kaba Mas Limited Use Clause for X-10 Series: Section 1.1.1 Limited Use. "Locks tested and qualified under this specification are to be sold only to the Federal Government, Government contractors specifically authorized to purchase these locks, or other organizations specifally authorized or required by the Government to use these locks."
X-10 & CDX-10 Lock Features
Self powered by electromechanical PowerStar™ technology
No need to clear before entering combination
Auto power off after 40 seconds of inactivity
Non-volatile memory and No dead zones
Limited View LCD display with indicator arrows
Operational temperature range of -10 °F to 155 °F
Case and bolt strength of 600 pounds in two directions
500 billion possible combinations with dual combination mode
Fail safe against high voltage, robot, X-ray, magnetic, vibration, and R/F attacks
X-10 Operations Quick Reference Manual

X-10 Operations quick reference guide