LKM Series Locks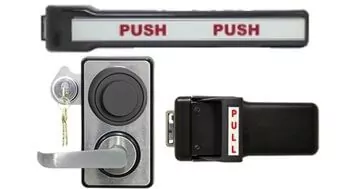 This revolutionary locking device provides both high security and life safety. The single motion
egress feature of the LKM Lock Series when integrated with a high security (FF-L-2740B)
lock creates a FF-L-2890 compliant pedestrian door lock. The Series offers many lock device
options from exit only to tiered levels of security.
LKM7000 Series Locks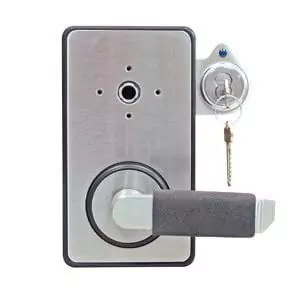 LKM7000 Series locks are no longer being produced by Lockmasters as of 01/05/2018, it has been replaced by the LKM10K Series of locks. Repair parts for all LKM7000 series locks are available until 01/05/2021 from the manufacturer.
We will continue to provide comprehensive repair services for the LKM7000, LKM7002, LKM7003, LKM7004, and LKM7006 lock until parts are accessible for needed repairs.
LKM10K Series Locks
LKM10K series locks are the next generation of LKM7000 locks, offering many improvements over the legacy product. LKM10K Series locks come in three different configurations to suit your needs and required level of security.
LKM10K Panic Bar: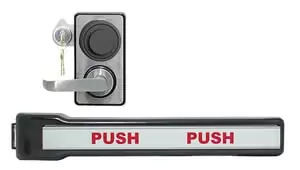 Replaces the LKM7000 and LKM7003 Lock Series Models
Series: LKM10K
Model: Panic Bar
GSA Type: III and IV
Lock: S&G 2740B
Strike: #2 Outswing Door Single Door Reverse Bevel
Strike: #9 Inactive Door Double Door Reverse Bevel
LKM10K Push/Pull Handle: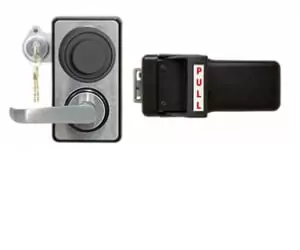 Replaces the LKM7000 and LKM7003 Lock Series Models
Series: LKM10K
Model: Handle
GSA Type: I and II
Lock: Kaba Mas X-10 (shown) or S&G 2740B
Strike: # 1 Flush Inswing Door Single or Double Door Regular Bevel
Strike: #2 Outswing Door Single Door Reverse Bevel
Strike: #3 Inswing Door Surface Mount Single or Double Door Regular Bevel
Strike: #9 Inactive Door Double Door Reverse Bevel
LKM10K Exit Only: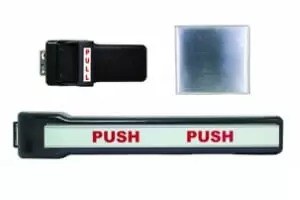 Exit Only Model is designed with no exterior trim
Series: LKM10K
Model: Exit Only Push Pull (Does not meet FF-L-2890B)
Strike: # 1 Flush Inswing Door Single or Double Door Regular Bevel
Strike: #2 Outswing Door Single Door Reverse Bevel
Strike: #3 Inswing Door Surface Mount Single or Double Door Regular Bevel
Strike: #9 Inactive Door Double Door Reverse Bevel
Features of LKM7000 and LKM10K Series Locks
The dead bolt automatically extends into the locked position as soon as it engages the strike.
The LKM Lock Series is designed to work with any standard footprint combination lock
The LKM Lock Series is compatible with a variety of electronic access control devices
When both a combination lock and access control device are installed with a LKM Lock, tiered levels of security are created
Bolt monitoring & request to exit
One simple push or pull of the ADA and UFSA compliant handle allows exit.
Key Override Module
90 Min. UL fire rating (USA and Canada) when installed with a Kaba Mas X-10 combination lock.
Lock down feature denies entrance with a turn of a key without impeding exit
The LKM Lock Series comes with a strike that surrounds the dead bolt for reinforced security
All models of the LKM locks feature an illuminated label for easy visibility in no/low light situations