Kaba Mas Certified Locksmith
When it comes to installing and servicing a GSA approved lock, you just can't contact any locksmith. Our locksmith are certified by Kaba Mas, Lockmasters, and S&G to work on and install these high security locks.
Our company has been servicing and installing these locks for many years and we have the knowledge and expertise to repair, open, and install Lockmaster, S&G, and Kaba Mas locks. Whether your Kaba Mas lock is malfunctioning or someone simply misplaced the combination to LKM 10K, we can get you back in that safe or container in a very short period of time.
X-0 Series Kaba Mas Lock Features
Backlit Display
Through Case Mounting Lock Case
Eight-Digit Serial Number
DC Motor
Lock Motor
Lock Bolt Options – Options One Bolt Flush – Tapped
Factory Location
Month & Year Made
X-10 Lock is More Secure and User Friendly
Kaba Mas X-10 Lock was developed in conjunction with the US Government and was designed specifically for federal specification FF-L-2740 revision 'B' US Government's highest security standard for container locks and doors.
X-10 is approved by the GSA for use on approved Class 5 and Class 6 Filing Cabinets and Class 5 Security Vault Doors. It is self-powered using PowerStar technology and has a backlit screen. Simply rotate the dial to power up the lock and enter the combination.
Intuitive, visual controls guide the operator through programming and audit features. X-10 lock provides all the benefits of high-security electronic locking while maintaining the reliability of a mechanical lock . It offers three modes of operation, and features Automatic Lock Reset, High-Security combination scramble. The X-10 by Kaba Mas resists all forms of external manipulation and environmental attack.

Kaba Mas X-09 & CDX-09
Older Kaba Mas lock that is now being phased out by the newer and more user friendly X-10.
Kaba Mas X-10 & CDX-10
Newest standard in high security locks for government use, more secure and user friendly.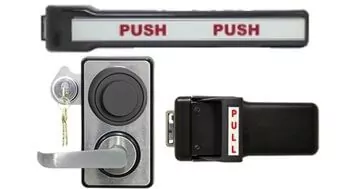 LKM7000 & LKM10K Locks
FF-L-2890b compliant locks offered by LockOne® for government use. Accommodates both Kaba Mas and S&G Locks
S&G 2740 & 2890 Locks
These S&G locks are engineered and manufactured to meet the strict security standards of the U.S. Government
Kaba Mas Locksmith Services MD, DC, & VA
Our locksmith services for Kaba Mas locks is available throughout Maryland, Washington DC, and Northern VA. However, we can service areas much further depending on the size of the job. We are Kaba Mas certified locksmith to work on GSA approved locks with over 11 years of experience in the industry.