Automatic doors: A full time door man for your facility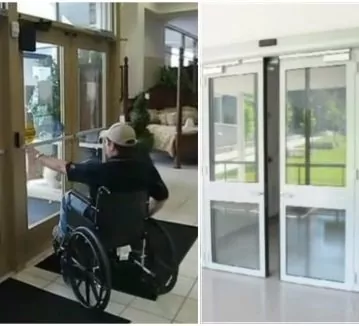 If you run a business that is open to the public, accessibility is a major concern for you. When someone comes to your building, they feel welcomed when the door opens for them, it's like having a full time door-man. An Automatic sliding door makes it easier for everyone to get in and out of your building. People may have bags, carriages, or they may be handicapped. Some automatic doors have pressure sensors, infrared sensors, or more advanced options such as continuous rotation, revolving automatic entry systems that hospitals and major hotels use.
Whether you run a shop, a hotel, a restaurant, or any other form of business, simple upgrades such as an automatic sliding door could make a huge difference to the way people view your company. Not to mention the security benefits it adds.
Wheelchair Access
Many shops and restaurants are required to offer easy access to the disabled, being required to install wheelchair ramps, elevators, and automatic doors. Even if it's not required, it makes sense to make your business as accessible as possible for anyone.
If you run a restaurant, shop, or office that sees a lot of through traffic, having automatic doors is a great way to help people move through the area quickly. When you have a manual door it takes an additional 6 seconds to open the door. It may not sound like much, but when you have 5 people trying to come in, or 50 on black friday that adds up to quite a lot of time. And when people are delayed from getting into your building, it's never a good thing.
Another benefit of doors that open and close automatically is savings to your energy bill. In many cases, regular doors might be kept open all day, to invite people to come in. This leads to lots of noise, drafts, and wasted energy keeping the building warm. Consider it an investment.
Automatic doors can be installed quite cheaply, and the long-term energy savings can really add up. Plus when people walk past your door and all of a sudden your automatic doors open, they'll feel guilty and walk in.