Car Key Replacement Around Baltimore MD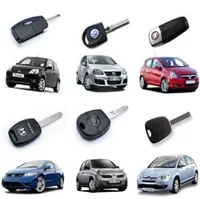 Our expert auto locksmiths can cut, copy and replace car key for most makes and models on site, directly from our mobile unit or at either our Baltimore or Timonium locations. We offer OEM quality car keys and car key fobs for replacement, therefore, our car keys won't stop working just after a few months or so. All of our replacement car keys come with a 12 month warranty so if anything does go wrong you're covered, just bring in the key (with receipt) and we will fix or replace it.
Are you stranded because you lost your car keys? Our fast response time, and expert car key techs can have you on your way in no time.
In Store and Mobile Car Key Service
If you are just looking to get another copy of your car key and you have a functioning key then you can simply stop by our main location in Baltimore on Reisterstown Rd, or stop by our Timonium locksmith location. By bringing in the car key to us instead of having us come out, you can save yourself the service charge.
Don't have the original car key? No problem, we can still make you a new car key without the original being present. Our locksmiths have the knowledge, equipment, and skills needed to originate a car key for your vehicle.
Why Choose us?
We are Licensed (MD License #99), Bonded, and Insured
Long standing members of ALOA, MDMLA, and SAVTA
Over 11 years experience serving Maryland and Washington DC
A+ Rating with BBB and our third party reviews on many websites
Quality car keys backed by a warranty from a long standing business
Fully trained and experienced car key technicians
Fast and friendly service at affordable rates
Choose between OEM or after market car key
If repairable we will repair your car key
We can make car key for car with after market system
Car key replacement services available throughout Baltimore metro areas
Car Makes We Offer Replacement Car Keys For:
Acura –
Audi (up to 2007) –
Buick –
Cadillac –
Chevrolet –
Chrysler –
Daewoo –
Dodge –
Ford –
Genesis –
Geo –
GMC –
Honda –
HUMMER –
Hyundai –
Infiniti –
Isuzu –
Jaguar –
Jeep –
Kia –
Land Rover –
Lexus –
Lincoln –
Mazda –
Mitsubishi –
Nissan –
Oldsmobile –
Plymouth –
Pontiac –
RAM –
Saturn –
Scion –
Smart –
Subaru –
Suzuki –
Toyota –
Volkswagen