Class 6 GSA Approved Containers
GSA Class 6 Safe
These have been approved by GSA under Federal Specification AA-F-358H. It affords the following protection:
30 man-minutes against covert entry.
20 man – hours against entry.
Letter or legal size with 2, 4 or 5 drawers
Special sized 1 or 2 drawer models
Single or multilocks – X10 or S&G 2740
GSA approved class 6 security containers
Class 6 GSA approved security containers, safes and storage lockers are designed to resist covert and surreptitious entry and are approved for the storage of all levels of classified information. They are available as filing cabinets, field safes, and special size cabinets for installation in vehicles and map and plan cabinets. All GSA Containers approved for the storage of classified information are provided with a lock meeting Federal Specification FF-L-2740. These locks have a built in feature where either a single combination or a dual combination can be used.
All containers are certified under government standards AA-F-358J, AA-F-363D, AA-C-2859A, AA-D-600D
Two Drawer Class 6 Containers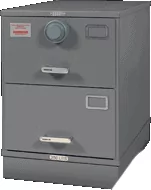 Requires Less Space
More Usable Filing Space
No Thumb latch
Under 300 lbs.
Inside drawer dimensions: 10 1/4″ H x 15 1/4″ W x 24 3/4″D
Four Drawer Class 6 Containers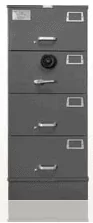 More Filing Space
Inside Dimensions: 10 1/4" Height x 15 1/4" Width x 24 3/4" D
Outside Dimensions: 51 1/4" H x 19 1/4" W x 28" D
Ship Weight: 472 lbs
Five Drawer Class 6 Containers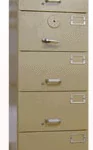 Outside: 57 3/4" high x 19 1/4" wide x 28" deep
Inside: 10 1/4" high x 15 1/4" wide x 24 3/4" deep
Weight: 520 lbs.